In the realm of advanced materials, cemented carbide stands as a remarkable innovation that has revolutionized industries ranging from manufacturing to aerospace. Often referred to as "hardmetal," this composite material has garnered significant attention due to its exceptional hardness, wear resistance, and versatility. In this article, we delve into the world of cemented carbide, uncovering its composition, unique properties, and the wide array of applications where it shines.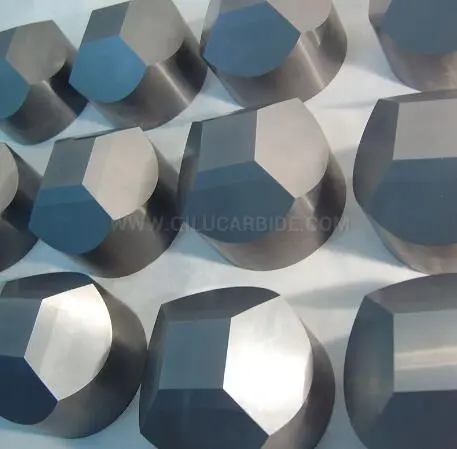 Composition and Formation:
Cemented carbide material is essentially a composite of hard carbide particles embedded in a tough metallic binder phase. The primary carbide used in this composition is tungsten carbide (WC), renowned for its extraordinary hardness and thermal stability. The binder phase, commonly made of cobalt (Co), serves to hold the carbide particles together, providing toughness and enhancing the material's overall mechanical properties.
The production of cemented carbide involves a meticulous process of powder metallurgy. Initially, tungsten carbide powder and cobalt powder are thoroughly mixed in precise proportions. This mixture is then subjected to high-temperature sintering, where it undergoes a process of heating and compacting to form a solid and dense material. The resulting cemented carbide exhibits an exceptional combination of hardness, strength, and toughness, making it highly desirable for numerous applications.
Unique Properties:
The distinctive properties of cemented carbide material are what set it apart as a versatile and high-performance material:
Hardness: Cemented carbide is renowned for its exceptional hardness, rivaling that of natural diamonds. This property makes it ideal for applications where wear resistance and durability are paramount.

Wear Resistance: The hardness of cemented carbide translates to outstanding wear resistance. This property finds extensive use in cutting and drilling tools, where the material maintains its integrity even under demanding conditions.

Strength and Toughness: The combination of tough metallic binder and hard carbide particles results in a material that is not only hard but also tough. This balance is critical for applications that involve both impact and abrasive forces.

Thermal Stability: Cemented carbide retains its mechanical properties even at elevated temperatures, making it suitable for applications in high-temperature environments, such as metal forming and machining.

Corrosion Resistance: While not inherently corrosion-resistant, cemented carbide can be coated with materials like titanium nitride (TiN) or titanium carbonitride (TiCN) to enhance its resistance to corrosion.
Diverse Applications:
The versatility of cemented carbide material is reflected in its extensive range of applications across various industries:
Cutting Tools: Cemented carbide is a cornerstone in the production of cutting tools such as drills, end mills, and inserts. Its exceptional hardness and wear resistance ensure prolonged tool life and consistent performance.

Metalworking: In metal forming and shaping operations, cemented carbide tooling is employed for tasks like cold heading, metal extrusion, and wire drawing.

Mining and Construction: Cemented carbide is crucial in mining tools like drill bits, as it can withstand the abrasiveness of rocks and maintain its cutting edge in challenging conditions.

Aerospace and Defense: The material's high strength, wear resistance, and thermal stability make it suitable for components in aircraft engines, missile systems, and other defense applications.

Automotive Industry: Cemented carbide finds use in components such as valve seats, cam followers, and bearings due to its durability and resistance to wear.
In conclusion, cemented carbide material has emerged as a pioneering innovation that has transformed various industries through its exceptional properties and versatility. Its unique composition of hard carbide particles and metallic binder bestows it with remarkable hardness, wear resistance, and thermal stability. From cutting tools to aerospace components, cemented carbide's influence spans diverse sectors, showcasing its ability to thrive in demanding and high-performance applications. As technology continues to advance, the significance of cemented carbide material in shaping the world of materials science and industrial innovation remains undeniable. We are a cemented carbide anvil supplier. If you are interested in our products, please contact us now!